This is Sunbrella
Sunbrella has revolutionized the way the world thinks about how fabrics look, feel and perform. Say goodbye to the days where stains and sun ruined our favorite pieces of furniture. With unmatched durability, easy cleaning and unique designs, Sunbrella gives you the materials you need to create an extraordinary space, that is a reflection of your personal style, with indoor and outdoor upholstery fabrics.
Upholstery
Create the extraordinary indoors and outdoors.
Building a space that speaks for itself starts with a creative vision, intentional design and beautifully crafted materials that do more than simply look good—they improve the way we live. Sunbrella upholstery fabrics combine comfort and luxury by integrating style with the unparalleled performance of the Sunbrella brand.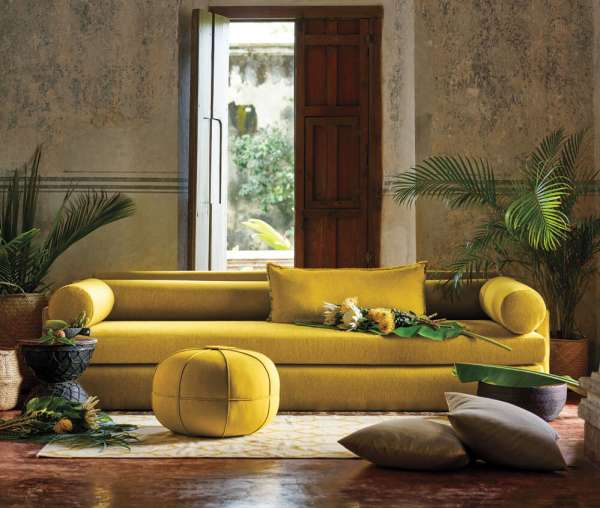 Indoor Upholstery
An upholstery fabric you can trust year after year, that not only looks beautiful, but feels incredibly soft is not only possible—Sunbrella are the leaders in doing it. Our collections are built with eye-catching color and irresistible texture, centered around high-quality design and global trends. Experience lived-in luxury with our fabric's scratch resistance, stain resistance and worry-free maintenance.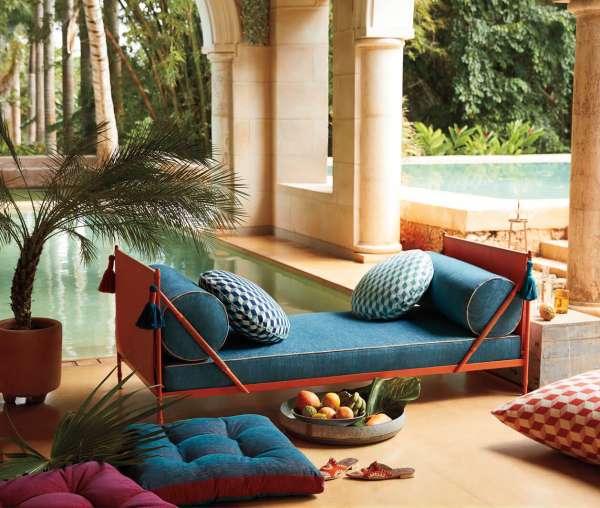 Outdoor Upholstery
Sunbrella is the most trusted name in performance fabrics for good reason—its combination of durability and design is simply unmatched. With powerful UV-resistance, stain resistance and easy care, Sunbrella upholstery fabrics are engineered to retain their beauty and strength, rain or shine, season over season.
Performance
Finishes Wear Off
Most performance fabrics are simply regular fabrics with a protective surface finish. However, over time normal use, spills and cleanings gradually wear away at that finish, eventually exposing the fabric to potentially irreversible damage.
Sunbrella's Performance is Built-in
Sunbrella's performance doesn't stop at the finish - it's engineered into the core of each fabric with durable fibers that are completely saturated with color.
Sunbrella performance doesn't stop at the finish – it's engineered into the core of the fabric itself with durable, chemically-stable fibers that are completely saturated with color at the core. We keep both design and performance top of mind at every stage when we create our materials so that your fabric is beautiful and functional.
Proven Durability
Long-lasting yet incredibly soft, Sunbrella fabrics exceed tough industry standards for abrasion, pilling and fading.
Water & Stain Resistance
Trust Sunbrella to stand up to life's toughest moments with powerful water and stain resistance.
Easy Care
Sunbrella guarantees ultimate cleanability with easy soap-and-water maintenance.
UV / Fade Resistance
Sunbrella fibers are saturated with highly UV-stable pigments, making them resistant to fading and the degrading effects of sunlight.
Breathable Comfort
Sunbrella shade fabrics are breathable, allowing air to comfortably pass through them.
GREENGUARD® Gold Certification
Sunbrella upholstery fabric has achieved GREENGUARD Gold Certification for contributing to healthy indoor air quality.
Skin Protection
The Skin Cancer Foundation recommends certain Sunbrella fabrics in shading products as part of a complete sun protection regimen, including regular use of sunscreen, to aid in preventing sun-induced skin damage.
ACT Standards
Specific Sunbrella fabrics meet the ACT Standards for use in high-traffic areas.
Find a Sunbrella resource near you.
No matter what space you are shopping for, indoors or out, we're here to help. We provide responsive local representatives who are armed with expertise and knowledge to bring your vision to life.
Select a State